Biography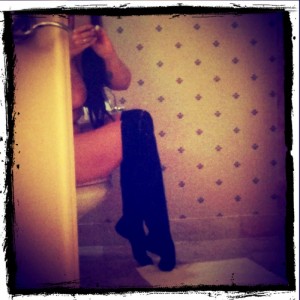 I'm Jenny DeMilo and I'm a fetish enthusiast and professional Dominatrix based in the Washington DC Metro area. A tall girl at 5'9″ in bare feet and over six foot in my girlie heels. My feet are a perfect size 8.5 with very high arches and extremely flexible toes and I love to have them pampered and worshiped. I have world-class curves, sparkling root beer eyes, long silky dark mahogany hair, alabaster skin and a quirky seductive smile.
I have a degree in art,  i'm professional erotic photographer, a published writer and an accomplished equestrian. I can converse on most topics, from the silly to the esoteric. I can make you laugh, I can make you think or I can make you wish you were never born. The choice is yours.
I've been in and out of the "lifestyle" for as long as I can remember. I've worked as a fetish model, a hardcore foot model and I've been seeing clients as a professional Domme in person, off and on for years. Currently specializing in erotic femdom hypnosis. Creating hypnosis recordings to thrill and delight.
Naturally sexy, I'm an outrageously passionate woman. I live in the moment and love adventure. I'm the real thing, an original thinker, in a hot, sexy, dominant package. Sexy, saucy, sassy and seductive. All good things that start with the letter 'S'.
I'm your Italian dream Mistress, tall, strong, playful creative and demanding. I expect to be worshiped and adored. Good slaves will be rewarded, bad ones… Punished.
Gli italiani lo fanno meglio
Mistress DeMilo