Cross posted from Jennydemilo.com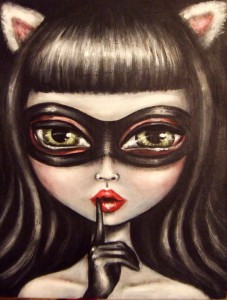 I've been selling my content on Kinkbomb for over a year. For those of you who don't know who they are they are a fairly new clip site  with "offices" based out of Las Vegas. They call themselves "Kinkbomb Media Group" But I'm pretty sure it's about 4 people. I've had personal contact with 3 of them. A nameless, Customer service rep, A tech support guy and the President who's said his name was Joshua.
When I registered to sell content with them there were only a handful of store up and operational and it was easy for me to quickly become a top content provider. I spent 3 solid months of driving traffic, adding links and promoting my content on their site. Kinkbomb takes 40% of my sales and for that they process the transactions, host the content and provide traffic or what I like to call "eyeballs" The more people who see your stuff the more likely you will make sales. I give up 40% of my earnings for those services. After 3 months I didn't see my sales increase by much, they hovered in the barely getting a check range and I decided to put my efforts into my other clip stores. Especially after getting my analytics results and doing some analysis. I was driving a hefty portion of my traffic, in fact I was driving most of it. So Kinkbomb was making 40% of my sales for payment processing and hosting my content for sale. That for those of you who don't know is outrageous. If Kinkbomb was providing traffic and i was still not making any increasing sales well, that's on me. Kinkbomb was not bringing eyeballs to the table so i basically did the bare minimum moving forward and put my efforts into marketing and promoting my stores other sites.
Flash ahead to a few months ago when Kinkbomb servers failed. Almost all my content was lost, how did I find out about this huge problem? I stopped making sales and spent some time asking around until I found out that Kinkbomb had a huge server failing and that many stores were effected. I went from being the number 3 or 4 content provider to being off the list. Kinkbbomb eventually sent out a mass email to its stores informing them that their content might be affected with a promise that eventually it would be fixed to be patient etc, etc… Not an email telling me directly how I was effected and what steps they were taking and what steps I would need to take to correct or compensate for the issue. I had to follow up with that after several days of Kinkbomb tweets asking for their stores patience and some emails informing that it would be rectified soon.
It wasn't, most of my content was lost. It needed to be uploaded again, descriptions added, pricing information added, keywords added, animated gifs added, it was a mess. KB's tech guy was helpful and i mass uploaded all the content I had easily accessible since most was on back up drives and needed to be searched out. I spent a fair amount of time uploading my content to which KB told me they could eternally reinstate the other info. Yay! Only it was bullshit i found that out a month later when all my best selling content, my hypnosis mp3s were in the server but not listed for sale. I had to by hand add those to my store for sale. So much for kinkbomb doing the linking. How did I find that out… no sales, then investigation. Which was becoming a pattern for Kinkbomb
Okay I get it shit happens and it was a huge pain in the ass and Kinkbomb handled the situation really badly. A sever melt down is a huge deal and causes work for everyone. Kinkbomb's lack of personal attention and having what appeared to be a piece mail solution thrown together only as needs arose and studios complained and as after thoughts didn't help. But I was able to get a quarter of my content back up for sale and put Kinkbomb out of my mind and got to work on other sites and life was almost back to normal with them…
Then the unthinkable happened…
I got an email informing me that Kinkbomb had over paid me due to an accounting error on their part and a "new" accounting system they went on to say they would be docking my current drop. They gave me blanket numbers and did not provide any documentation. A day later my deposit was docked. I then did my own accounting based on my sales emails and found sadly, not to my surprise that my numbers and Kinkbomb's numbers did not match. I provided Kinkbomb with this information including transaction numbers and asked that the difference be direct deposited to me that day.
Email one: Customer service then told me that 3 of my sales were "incomplete" sales and that the "system" had sent out the emails too soon.That glitch was being corrected.
Email two: Customer service then said that according to "finance" 2 of those sales were charge backs and that one was just refunded no reason given.
That's when I saw red. Let me be clear we are NOT talking about a lot of money were talking a few bucks. I responded requesting documentation of the two charge backs and a reason for the third and i asked a lot of questions. If in fact the sales were charge backs why did they say they were incomplete sales? what steps were they taking to block the buyer? What investigation was done for these charge backs? how could a trust them with so much conflicting information? and so on and so on. I was not a happy camper and i felt like kinkbomb was being either shady or plain old  incompetent and i let that be known.
Email three from the president of Kinkbomb media: giving me a "charge back" lesson explaining to me what a charge back was and the general process with no information pertaining to my specific "charge backs"  NO answer to any of my questions and none of the supporting data I asked for. I had explained to kinkbomb in my previous email that they have used up their  good will and that i could no longer excuse their business practice they needed to provide me proof of the situation. The email i received from the president of kinkbomb was condescending in tone,  especially where he got to the part where he touted Kinkkbomb as being "tops" in the industry "bar none" he had the balls to tell me that after their server melted down, after they docked my deposits before even letting me know there was a possible issue, with bringing under 500 eyeballs to my store a month  and with extreme lack of customer relations or service. Really that's tops? No one does better then that?  Well color me fucking surprised.
I wrote back asking the president of Kinkbomb media if he would be the one answering my questions from now on and if i would be getting the charge back documentation from him personally and i have not heard back from kinkbomb media since. Radio silence. well I get the mass emails where they tout their lame as fuck contest where they try to get the studios to promote heavier to win something lame so they don't have to buy any actual advertising. Yeah, i got those but nothing from the president who thought it important enough to inform me what a charge back was but not important enough to actually answer my questions.
In my frustration I thought to myself how stupd can they be? Then it dawned on me its not that Kinkbomb is stupid (shady maybe) it's that Kinkbomb thinks I'M stupid and they have been acting accordingly.  Great way to do business Kinkbomb. So I removed my content of f their servers but left my store up because IM STILL WAITING for my documentation of those supposed charge backs and I'm still waiting for a reason for the third refund and while I wait I'm not comfortable making any amount of money for Kinkbomb Media and since they have shown that they are untrustworthy I thought it better to just remove the content pending the answers I need to feel comfortable doing business with them.
I have a feeling i'll be waiting forever, so be it as long as they can ignore me is as long as i can tell people my personal experience with them and that's what i intend to do. People can make up their own minds and if they decide to do business with them they can take their own measures to safeguard that they aren't being for lack of a better term ripped off.
Maybe kinkbomb should have checked me out that not unlike some of the other studios who have left them because they were unhappy with Kinkbomb that I may be a low money maker with them but my mouth is tenfold and if you wrong me I will make sure everyone knows about it …. until you make it right or when hell freezes over which ever comes first.