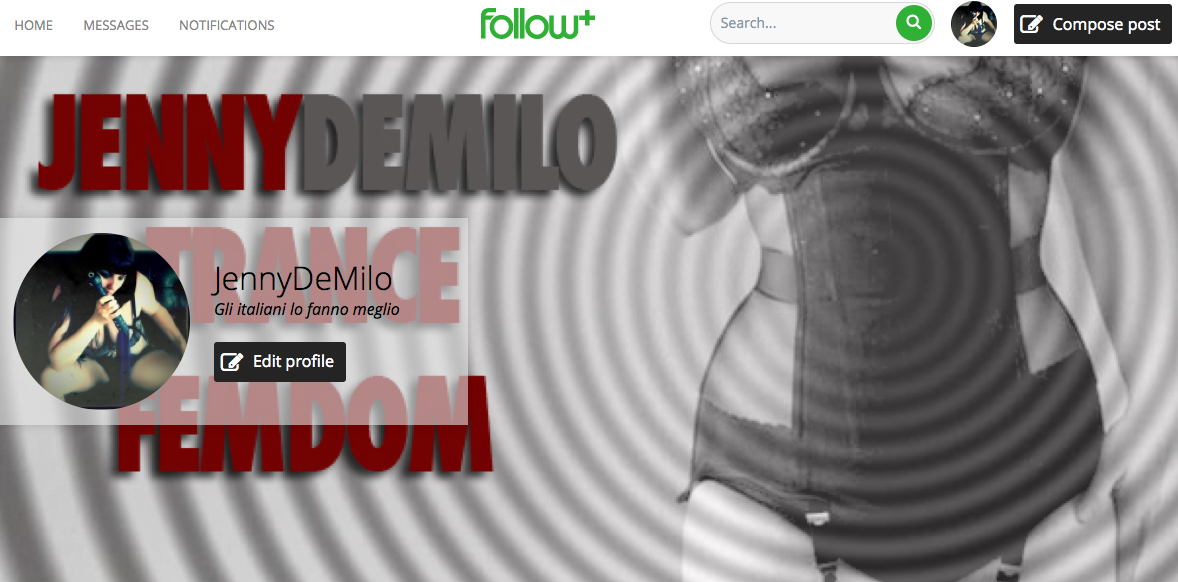 Its new and its going to be great. I know you like following me on twitter and that's great but every tom dick and time-waster can do that. I just found out about Follow Plus. Like Twitter but so much better because I'm not confined by Twitter rules on what I can post. There's a feature for posting video, photos and now mp3s. All of which I have posted. Sure its costs money but being a Jenny super pervert isnt free. Plus really its cheap for all the free content I have and will be posting there. You will soon see less and less  free content posted other places and more  and more on follow plus. Join the DeMilo army…..
Jenny on Follow Plus
July 6, 2016 | Categories: Femdom Hypnosis, Sex work | Tags: follow plus, free content, goddess worship, social media, twitter | Comments Off on Follow Plus
---
I can only be found on a handful of social media sites. By that i mean that though i might  have a profile im not an active participant. That is of course unless you are on Twitter. I am on Twitter and my feed is a mix of promoting my Hypnosis Mp3s, talking about my life as an equestrian ( yes i have other interests) and of course politics. I am not one to shy away from voicing my thoughts. I do interact with others on twitter provided your don't have a dick pic of an avatar. So if you are on the Twitter… follow me and say hi.
July 18, 2014 | Categories: Sex work | Tags: Dominatrix, MP3, Profesional domination, Sex work, social media, twitter, Washington DC Dominatrix | Comments Off on Social Media Jenny
---